Second FerrOs Retreat: Finally, the whole FerrOs team got together in person!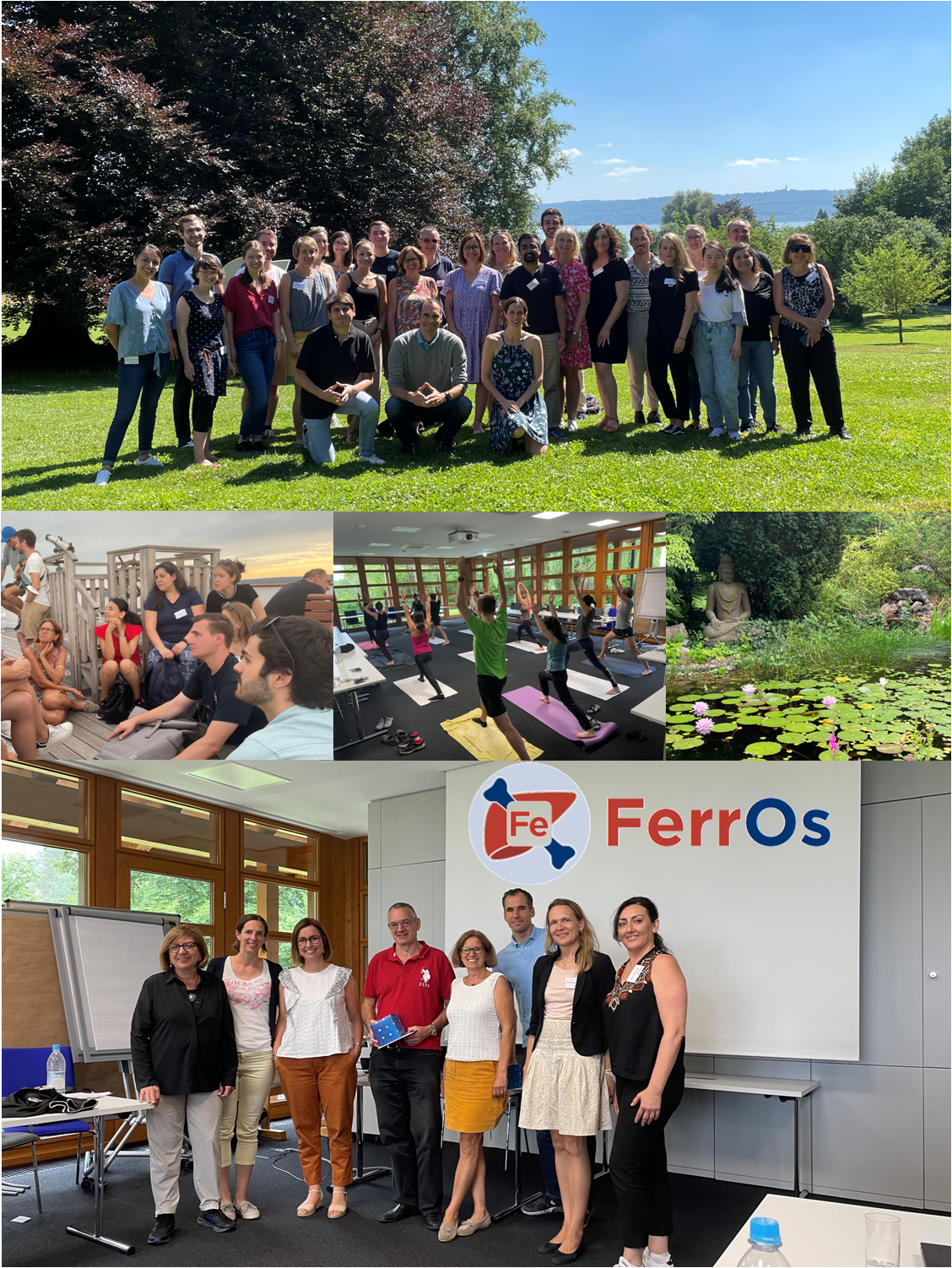 On June 29th – July 1st we met in Riederau at the Ammersee at our 2nd FerrOs Retreat.
Since we were not able to meet face-to-face at our 1st retreat, we were all more than happy to get together in real life and listen to the presentations of our eight FerrOs projects.
We started with a brief welcome address given by our FerrOs speaker Martina followed by the first session of project presentations. After a short coffee break, we enjoyed our first keynote lecture on "Osteocytes" given by Teresita Bellido from UMAS College of Medicine, US, who is one of the three members of our scientific advisory board (SAB). To stay alert we had an active break after Teresita's talk before we learned about the hot topics in iron & bone research.
The second day started with the next round of project presentations followed by the keynote talk "Iron metabolism and liver pathophysiology" by Kostas Pantopoulos from McGill University, Canada, member of our SAB, too. After this we started with our Active Mentoring Session including a boat & bus trip to Kloster Andechs with a typical Bavarian lunch. We enjoyed the small hiking tour back from Kloster Andechs through the Kiental to Herrsching and had fruitful discussions along the way. Our young scientists had the possibility to choose two active mentoring sessions out of three and used the chance to get in contact to our experts who shared their experiences on "How to build an academic career", "Networking", and "Combining Career and Family". Like the second day that ended active, also the third started like this – with a great sunshine morning Yoga session given by Maja. Wide awake we listened to our third session of project presentations, followed by our third SAB member, Delphine Meynard from INSERM Institute in France, who talked about "CD44, a new player in iron absorption". Our retreat ended with a last session in which the associated FerrOs members were introduced and an update on Bioinformatics and our central project were given.
Similar to our first retreat the scientists were asked to not only present their projects, but also to introduce themselves by enclosing three things about their personal life to get to know each other better on a personal level. Moreover, the talks closed with a survey in which the participants had to guess the "lie" out of three statements about the presenter. This, again, turned out to be a pleasant addition to the excellent scientific talks and revealed some unexpected and entertaining insights into the lives and personalities of our younger researchers, as this time, the PhD students or Postdocs were asked to present.
We would like to thank our scientific advisory board for supporting us and all FerrOs members for their great talks, insightful questions, and helpful hints, and for the motivated and enjoyable atmosphere. We are very happy that our 2nd FerrOs retreat turned out so well! It was a pleasure!